Mental Health and Wellbeing

Mental Health Awareness week is an annual event when everyone can focus on achieving good mental health. The theme this year is NATURE.
Nature is central to our psychological and emotional health and so we all should try to establish a greater connection to the natural world to achieve good mental health and improve our overall wellbeing. Click here for top tips on connecting with nature.
Visit our 'Thrive Approach' page to find out more about how we are seeking to promote the good mental health of all our pupils and healthy social and emotional development.
New Ways November 2022
Action for Happiness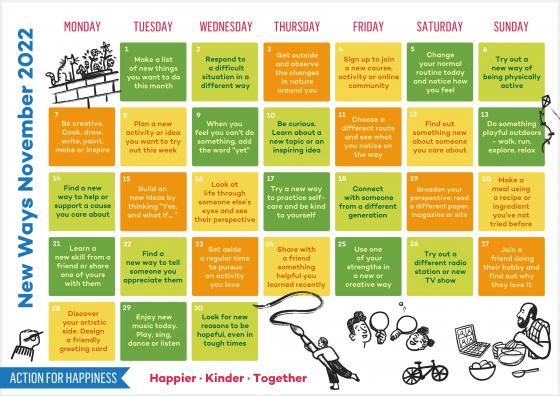 Useful Links
Resources to use during the Coronovirus Pandemic:
Everybody Worries - ebook A book to share with children who are worried about the Coronovirus.
Advice for Parents on Supporting children with worries during the Coronovirus Pandemic.
Further Support:
https://www.nwbh.nhs.uk/camhs-wigan Child and adolescent mental health service
https://youngminds.org.uk/find-help/your-guide-to-support/guide-to-camhs/ Children and adolescent mental health service
https://www.nhs.uk/using-the-nhs/nhs-services/mental-health-services/child-and-adolescent-mental-health-services-camhs/ NHS advice
https://www.childline.org.uk/ Child line contact Call 0800 1111
Files to Download